Leica Rangemaster
Determines precisely both linear distance and equivalent horizontal range - Metres/Yards.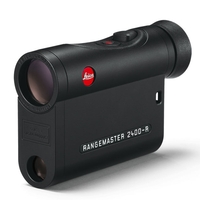 Leica Rangemaster CRF 2400-R Rangefinder. Leica CRF Rangemasters have been an essential aide for field sportsmen for many years now. They combine high-quality optics with durable mechanics and complex electronics in an extremely compact design. Like all other Leica Rangemaster rangefinders, they always meet precise parameter determination standards – anytime and anywhere. This way, they support every hunter and provide answers to of his essential questions. In a record-breaking time of 0.3 secon...
(more)
Offers three ballistic outputs in addition to the measured distance!
New
Leica Rangemaster CRF 2700-B Rangefinder. The new Leica Rangemaster CRF 2700-B is lightweight and compact and guarantees with 7x magnification optimum brightness and clarity and a broad field of view....
(more)
(1)
RRP

£750.00
£599.00
In stock
Purchase Options
Integrated Bluetooth offering limitless freedom and precision!
New
Leica Rangemaster CRF 2800.COM. Leica's first Bluetooth laser rangefinder, compatible with the new rangefinder app. Together with this specially designed smartphone app, the rangemaster offers limitless freedom and precision. All settings of the CRF can be comfortably set through the app. Create your own ballistic profiles and transfer directly to the CRF....
(more)