Orvis Super Strong Nylon Leaders - Pack of 2 - Olive
Related Products & Accessories
Product Details
Our code: 108949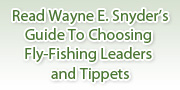 Super Strong fly fishing leaders excel because the nylon material balances three crucial elements better than any other: elasticity, knot strength and suppleness. The absolute best nylon material on the market. Super Strong's higher breaking strength will allow you to land and release fish quicker.
How to calculate breaking strain of X rated tippet - the "Rule of 9":
Subtract the X number from 9 to get the strength of nylon monofilament tippet. For example, a 5X leader has a breaking strain of 4 pounds (9-5=4) and a 2X tippet has a breaking strain of 7 pounds (9-2=7).
Product Reviews
There are no reviews of this product yet. Do you own this product? Why not write your own review.
Add Product Review