Monopods
Save £78
Gitzo GM2562T Series 2 Carbon Monopod - 6 Section. The Gitzo GM2562T Series 2 Traveler Monopod is the most compact, ultra-lightweight carbon fiber monopod in the range. Thanks to its rigid Carbon eXact tubing, this 6-section monopod safely holds up to 12 kg of photography equipment and weighs only 405 grams. Surprisingly stronger and stiffer than its predecessors, it folds down to just 36.5 cm thanks to the new "Traveler G-lock" that ensure extreme compactness. The monopod's new, stable foot is...
(more)
RRP

£293.95
£215.00
Out of stock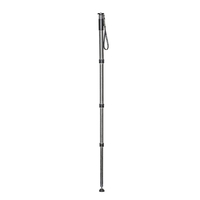 Gitzo Series 4 Carbon Monopod - 4 Section. The Gitzo GM4542 Series 4 Monopod is a 4-section, lightweight carbon fiber monopod. It is the best balanced solution in the range. This Series 4 support leverages larger tube size (top leg diameter 37.0mm) and stiff Carbon eXact tubes to deliver rock-solid stability for professional DSLRs, long lenses, and video cameras. However, it is extremely lightweight and slim enough to grip comfortably. Gitzo's G-Lock Ultra system makes the tubing even stronger b...
(more)
RRP

£289.95
£199.00
Out of stock - Email me
Manfrotto XPRO 4 Section Video Monopod With Fluid Head And Fluidtech Base. The XPRO Monopod Aluminium 4-section with Fluid Video Head is a professional full fluid video monopod made to satisfy videographers who leverage the height of their monopod to get above crowds and to achieve a wide range of shooting angles. These state-of-the-art Manfrotto legs have inherited the perfect combination of rigidity and locking safety of professional tripod ranges, like the 190 collection and 055 collection....
(more)