Monopods
Celestron Hummingbird Monopod. The Hummingbird monopod will provide you with a stable platform for your spotting scope, binocular, or camera. This monopod features a durable, aluminum tube that stands up to hard use in the field. The padded grip, wrist strap, and belt clip give you a firm, secure grip on the monopod for stable, non-shaky images. With the twist-lock and four-leg sections, the monopod can be adjusted to a huge range of heights, from just 18" to 56", making it perfect for a variet...
(more)
(1)
£29.99
In stock
Purchase Options
Besides the tripod, 290 monopods are the best solution in terms of compactness and portability to hold the camera in situations where space is limited.
Manfrotto 290 Aluminium Monopod. The 290 aluminium monopod is a lightweight, 4-section monopod that is the best solution in terms of compactness and portability. The fortified alloy tube, built in the exclusive D-shape, ensures additional stability for an enjoyable, creative shooting experience. It boasts a lightweight rigid upper disc with a versatile 1/4"-3/8" attachment for the camera and head....
(more)
(1)
RRP

£59.95
£49.00
In stock
Purchase Options
Lightweight, ultra-portable, and ideal for entry-level photographers. The Compact Monopod is perfect for compact cameras, although thanks to its universal 1/4'' screw thread it is compatible with many different devices weighing up to 1.5kg. The ergonomic grip is designed with comfortable, soft material, and a wrist strap enables you to keep your equipment safe and secure. Take sharper photos wherever you are, without the size and bulk of a large tripod....
(more)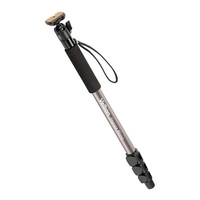 Velbon Sherpa Monopod. All purpose monopod support for use with lightweight fieldscopes, photo & video equipment. 4-section leg and easy-to-use clip locks for fast setup and closure....
(more)