Black Monopods
Celestron Hummingbird Monopod. The Hummingbird monopod will provide you with a stable platform for your spotting scope, binocular, or camera. This monopod features a durable, aluminum tube that stands up to hard use in the field. The padded grip, wrist strap, and belt clip give you a firm, secure grip on the monopod for stable, non-shaky images. With the twist-lock and four-leg sections, the monopod can be adjusted to a huge range of heights, from just 18" to 56", making it perfect for a variet...
(more)
(1)
£29.99
In stock
Purchase Options
Save £78
Gitzo GM2562T Series 2 Carbon Monopod - 6 Section. The Gitzo GM2562T Series 2 Traveler Monopod is the most compact, ultra-lightweight carbon fiber monopod in the range. Thanks to its rigid Carbon eXact tubing, this 6-section monopod safely holds up to 12 kg of photography equipment and weighs only 405 grams. Surprisingly stronger and stiffer than its predecessors, it folds down to just 36.5 cm thanks to the new "Traveler G-lock" that ensure extreme compactness. The monopod's new, stable foot is...
(more)
RRP

£293.95
£215.00
Out of stock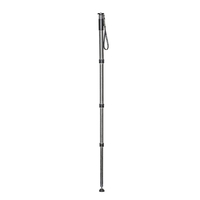 Gitzo Series 4 Carbon Monopod - 4 Section. The Gitzo GM4542 Series 4 Monopod is a 4-section, lightweight carbon fiber monopod. It is the best balanced solution in the range. This Series 4 support leverages larger tube size (top leg diameter 37.0mm) and stiff Carbon eXact tubes to deliver rock-solid stability for professional DSLRs, long lenses, and video cameras. However, it is extremely lightweight and slim enough to grip comfortably. Gitzo's G-Lock Ultra system makes the tubing even stronger b...
(more)
RRP

£289.95
£199.00
Out of stock - Email me