Fishing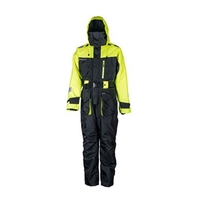 Save £94
Westin 1 Piece W3 Flotation Suit. Our flotation suits have become synonymous with anglers' happy faces and giant catches. And now they are available to wider audience thanks to the W3 - a more affordable version of the already hugely popular W6 and W4 flotation suits. Safety is the number one concern for anglers who wear flotation suits, and you can feel as safe as you would at home in the W3 thanks to it being EN ISO 12402-6 certified and being designed in high-viz colours....
(more)
Save £160
Westin 1 Piece Flotation Suit. This flotation suit is designed and developed with a single purpose - to create the ultimate flotation suit by all measures. From the very beginning the suit is designed to fit and meet the demands of the typical hardcore angler. Safety, durability, practical details and a close fit that still allows the wearer to move around free are all important characteristics of this suit. And all are characteristics that you will appreciate every time the weather turns bad....
(more)
Save £130
Westin 2 Piece Winter Suit. Wind, rain, hail or snow is no longer an issue! The W4 Winter Suit is all you need to stay put when the going gets though. Quality, function and comfort were the main priorities when designing this 2-piece suit. Both Jackets and Pants are packed with all the functions and features demanded by hardcore anglers. Its waterproof, windproof and breathable and with its light and soft comfort design it will keep you warm and dry all day long....
(more)