Green Fishing Special Offers
Save £41
Handcrafted waders with high quality natural rubber. Polyester jersey lining with Sanitized® protection, rot-proof, washable and fast-drying....
(more)
(5)
RRP

£170.00
£129.00
Check stock
Purchase Options
Save £40
Aigle Clerks Thermo-Kit Fleece Jacket....
(more)
(3)
RRP

£85.00
£45.00
Check stock
Purchase Options
Save £56
Aigle Shepper Polartec Sheepskin Fleece Gilet....
(more)
(2)
RRP

£145.00
£89.00
Check stock
Purchase Options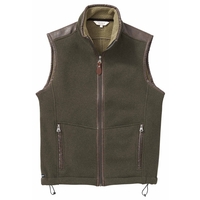 Save £81
Aigle Shepper W Fleece Waistcoat. Sleeveless version of the Garrano W Jacket, in Polartec fabric. Totally timeless style with its closer to the body tailoring for greater comfort and character....
(more)
Save £14
Fishpond Sagebrush Mesh Vest. The integration of new fabric makes the Sagebrush Mesh Vest look even better. But it is still one of the most durable, and cool, vests around. It has an entirely mesh rear, so matter the temperature you are not sweating it, and it still has side pockets that will take large-sized fly boxes without blinking....
(more)
(3)
RRP

£129.99
£115.00
In stock
Purchase Options
Save £20
Fishpond Kingfisher Tech Vest. Built of tan recycled commercial fishing net material called Cyclepond, has three hard pockets on the front for flies, two pockets on the back, a rear D-ring for a securing a net, plenty of extra zippered pockets for storing odds and ends, a nifty Hypalon tab for securing hemos, and fleece lined handwarmer pockets....
(more)
Save £30
Fishpond Wasatch Tech Pack. Perfect for hiking into those top-secret backcountry fishing spots, or any time you're spending a long day on the water, the Wasatch Tech pack combines a vest-style front with a versatile backpack and hydration reservoir pocket....
(more)
(1)
RRP

£189.99
£159.00
In stock
Purchase Options
Save £30
Fishpond Wildhorse Tech Pack. The crown jewel of the Fishpond vest line, the Wildhorse Tech Pack is actually a vest and backpack rolled into one. It has all the front facing pockets you'd ever need to store and easily access your gear, plus two of the guide-favorite drop down fly benches with replaceable foam inserts....
(more)
(2)
RRP

£219.99
£189.00
In stock
Purchase Options
Fishpond Arroyo Chest Pack. Built for the minimalist angler and the quick afternoon trip to the water, the Arroyo Chest Pack is big enough to fit a nymph and dry box, but small enough to be utilized as it's meant, up front and personal. Nevertheless, if you have a hankering to move fast, engage the hip straps to transform it for lumbar use. Despite its compactness, there is plenty of space for flies and tools, and has a zippered front flap with replaceable foam for bench work. Stay nimble....
(more)

(1)
RRP

£74.99
£64.99
In stock
Purchase Options
Fishpond Encampment Lumbar Pack. More flexible than a veteran yoga instructor, the Emcampment Lumbar Pack is Fishpond's 2014 entrant into the Most Versatile Pack contest. Sized for a couple of fly boxes and all your accessories, yet with enough support for heavier loads, it's constructed of recycled commercial fishing net material and outfitted with water-resistent zippers, cord loops for securing yet more gizmos, and nifty zippered pockets along the lumbar straps for quick access to the little ...
(more)
(1)
RRP

£89.99
£79.99
Out of stock
Fishpond Blue River Chest/Backpack System. The Blue River Chest/Lumbar pack is a great alternative to a vest, with the versatility to be worn as a lumbar, chest or sling pack. Regardless of how you wear it, everything you need on the water is right at your disposal, and out of the way when you don't. You'll be surprised at how much you can carry in the the Blue River pack....
(more)

(1)
RRP

£69.99
£59.00
In stock
Purchase Options
Save £20
Fishpond Black Canyon Backpack. Fishpond's most technical pack to date. This is the pack for you if you like to get off the beaten path and explore. Designed with the avid angler in mind, the size allows you to carry any extra gear while the new fabric and zippers help to keep your valuables dry....
(more)
Fishpond Cutbank Gear Bag. Designed to organize gear and keep it dry, the Cutbank Gear Bag features the signature Fishpond molded bottom and welded 1680d recycled TPU fabric. This gear and tackle bag is an organization system that allows for easy access wherever your adventures take you. Removable interior organization pads allow you to pack this bag flat, and then fill it with all the important stuff once you get to the boat....
(more)
(1)
RRP

£249.99
£199.00
In stock
Purchase Options
Fishpond Westwater Roll Top Duffel. It has the capacity to haul a full day's worth of gear, no problem! It has a roll-top design to keep that gear dry and secure, no problem! It has single-hand, side-strap, and rubber shoulder straps to pick up, pull out, and carry it away, no problem! The Westwater Roll Top Duffel means you are all out of excuses. Go fishing!...
(more)