Fishing
Compatible with iPhone and Android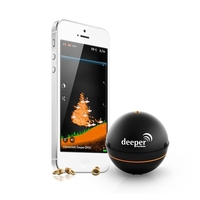 Save £25
Deeper Smart Fishfinder. Deeper – Smart fishfinder is a first of its kind, portable, wireless fish finder specially designed for amateur and professional fishermen....
(more)
RRP

£174.99
£149.00
Out of stock - Email me
The Creek Company Waltons Thumb Anglers Multitool. Walton's Thumb®- The Ultimate Tool for the fisherman. . First made in the early '70s by Hank Roberts, this ingenious fisherman's tool has so many unique and useful features for the fisherman, it needed to come back. Named after Izaak Walton, famous author of The Compleat Angler and the use of our opposing thumb, the Walton's Thumb® features 10 unique functions that any fisherman can appreciate....
(more)