Fishing
Compatible with iPhone and Android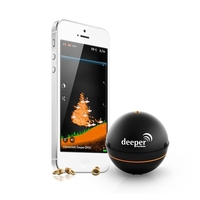 Save £25
Deeper Smart Fishfinder. Deeper – Smart fishfinder is a first of its kind, portable, wireless fish finder specially designed for amateur and professional fishermen....
(more)
RRP

£174.99
£149.00
Out of stock - Email me
Ridgeline Pintail Explorer Smock. This new smock adds all new important features: a pack away hood with wire, articulated elbows which are double lined, colour contrasted for style and belt clip to enable convenient carriage....
(more)
(4)
RRP

£139.99
£109.99
Check stock
Purchase Options
Ridgeline Igloo Top. This go anywhere do almost anything jacket is ideal for the evening stalk, wearing all day on a hunt, popping down to the local for a cold one....
(more)
(13)
RRP

£59.99
£49.99
Check stock
Purchase Options
Save £16
Ridgeline Stealth Thermal Leggings. Sold as separates, the stealth thermal set is fit perfect and ready to keep you warm in the cooler months. Constant stitching is a sharp contrast to another one of your favourite brands....
(more)
Save £16
Ridgeline Wild Cat Thermal Long Sleeved Base Layer. Base layers are essential for two reasons, they help maintain the core temperature when cold and draws sweat away from the body when working hard. The Ridgeline Wildcat Thermal Tee and Pants will perform both these functions keeping you comfortable in all weather conditions....
(more)
Ridgeline Reversible Beanie. 2 beanies rolled into one. The Ridgeline Beanie can be worn as either black or olive to suit whatever activity you need....
(more)
(1)
RRP

£14.99
£10.99
In stock
Purchase Options