Fishing
Compatible with iPhone and Android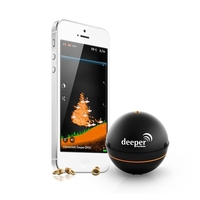 Save £25
Deeper Smart Fishfinder. Deeper – Smart fishfinder is a first of its kind, portable, wireless fish finder specially designed for amateur and professional fishermen....
(more)
RRP

£174.99
£149.00
Out of stock - Email me
Gherkes Gink Fly Float. Will not cake hackles. Easy to apply....
(more)
(1)
£7.49
In stock
Purchase Options
Leeda Gherkes Xink Fly Sink. The sinking version of the Gink. Use to sink flies or leaders to present the fly at the depth the fish are feeding....
(more)
Gerhke's Gink Knot Perfect Knot Lube. World class knot-making mono lube. Removes 100% of knot slack. For tippets, spinners, lures and all knots....
(more)
Gerhke's Gink Fly Maker's Wax. Gehrke's Fly-Maker's Wax is now the World's leading selling fly tying wax. Each container is a screw up twist from the bottom container full to the bottom containing the best natural outdoor ingredients known to man. Gink invest over a week to obtain the purity delivered in each batch of Fly-Maker's Wax....
(more)
Gerhke's Gink PZ Fly Cleaner. Cleans softens and rejuvenates flylines. Will make floating flylines float high again and all flylines cast longer. Just apply with a cloth....
(more)