Fishing
Compatible with iPhone and Android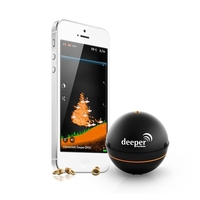 Save £25
Deeper Smart Fishfinder. Deeper – Smart fishfinder is a first of its kind, portable, wireless fish finder specially designed for amateur and professional fishermen....
(more)
RRP

£174.99
£149.00
Out of stock - Email me
Save £4
Flambeau's Creel Bags are designed for keeping your catch cool while fishing. Simply submerge the vinyl lined nylon bag into the water, the grommet drain holes will allow excess water to escape. Your wet creel bag will keep your harvest cool and fresh while you chase the next trophy. Use the Creel bag as a tackle and accessory bag managing all your flies, bait and supplies for your trip....
(more)