Fishing
New
Ansmann Spiral Cable - USB to Apple Lightning. High quality data & charging cable. High-quality, splash-proof, head light with 3W LED and 1.5W COB LED, 200 lumen...
(more)
RRP

£21.95
£19.99
Out of stock - Email me
Cutthroat Ultimate Dry Fly Leader with Tippet Ring - 76" - Line Weight 4-5-6. This leader is a must for enhancing your dry fly presentations. These Leaders will turn 4-7' of your favourite tippet and drop your dry with the most gentle of lay-downs. Imagine the drag-free drifts one gets with that much tippet....
(more)

(2)
£11.99
In stock
Purchase Options
This leader was made for rods 6'-6
Cutthroat Short Rod Leader with Tippet Ring - 50in. This Leader was developed after a weeklong trip fishing a 3 wt rod on a small brush covered creek. We realized that having a shorter leader for the 3 or 4 wt rods would be very beneficial. These short Rod Dry Fly Leaders offer the same dry fly fishing qualities of our longer leaders, but in a shorter version. These leaders have become a favourite among our many Bamboo enthusiasts. If you fish bamboo or a rod beneath 7'-6" in you should give one...
(more)
(2)
£10.99
Check stock
Purchase Options
Cutthroat Nymphing Leader with Tippet Ring - 50in - Line Weight 3-4-5. Built using additional thread at the butt section which aids in turning over heavy flies. Shorter heavier leaders turn over with more energy meaning you can cast heavier flies....
(more)
Cutthroat Hi-Vis Nymph Leader with Tippet Ring - 50in - Line Weight 3-4-5. This Nymphing leader has become one of Cutthroat's most popular nymphing leaders. The design of the Hi-Vis Nymph leader came from so many fly fishers having issues casting large wind resistant indicators; add a couple of flies and game over....
(more)

(1)
£12.99
In stock
Purchase Options
Cutthroat Multi-Purpose Leader with Tippet Ring - 68in. Perfect if you find yourself fishing dry fly's one moment and then switching a Dry Fly / dropper set-up or a multiple wet fly set-up....
(more)
(3)
£11.99
Check stock
Purchase Options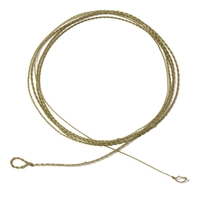 Cutthroat Big Bug Nylon Leader with Loop End - 50in - Line Weight 4-5-6. Big Bug Nylon Furled Leader for turning heavier flies with ease. These leaders were developed for throwing large bass bugs, Pike flies and "Big" Streamers…. These leaders are great with "Thing-a-ma-Bobber" indicators. The leader will not kink like typical tapered mono leaders, so no more worries when moving your indicator. These leaders come with loops only. We also package these leaders with slip indicators. This makes a g...
(more)
Just add a short length (12-18in) of your desired tippet and the fly
Streamer Leader. This Leader is 50" in length, it is made from Premium Nylon which means it floats and is extremely durable. The steep taper of this leader gives it the power to turn the biggest/heaviest of flys. At the end of the 50" length, we have attached a 12-14" extender peice of preminum fluorocarbon with a micro swivel (35lb.) breaking strength. This Leader works great on floating lines when throwing big and heavy flys / poppers / mice. This makes for a leader that often leaves many seas...
(more)
Cutthroat Czech High Sticking Leader. The Czech Leader consists of an 18" Sighter that is Hi-Vis Orange with black stripes or Chartreuse with Black Stripes. The stripes on the sighter allows you to see slight movement in the sighter meaning that a fish is tugging on your fly. Then we attach 30"-36" of 20 lb. braided line with a tippet ring. The 20 lb. braid is very thin allowing it to cut the water column (sink extremely fast) this gets your fly's into the face of fish hanging out down deep....
(more)
Cutthroat Reinforced 36" Dredger Spey Leader. The "Dredger" type of Spey Leader for getting deep fast.This leader is only 36" long with a steep taper.The Dredger leader will break the water surface tension and sink fast. The sink rate is approx. 2-3 inch per second. Because these leaders are reinforced, you will not have to worry about break the leader all season long....
(more)
Cutthroat Fluorocarbon Streamer Leader - Swivel - 36in. These short leaders are made from 100% fluorocarbon. These leaders sink fast and turn over very heavy flies. Base leader comes with Loop on the tippet end. This is a much stronger connection caompared to that of a ring. You have the option of purchasing the leader with a length of high quailty Fluoro with a micro swivel on the end. All you do is add a short length (12-18") of your deseired tippet and the fly....
(more)