Fishing
Filters Ignored
You have selected four or more brands, only three brands can be shown at once (please remove one or more of the current brands to display the new one).
Reset all filters
New Compact design.Ideal for Beach and light Boat Fishing
Save £100
Abu Garcia Ambassadeur 7000C Compact Multiplier Reel. The new Swedish made Ambassadeur 7000C Compact offers anglers a reel that is the same size as the Ambassadeur 6000, but with greater line capacity. Brass gears and a Carbon Matrix drag system combined with an increased spool diameter make this an extremely compact and comfortable reel....
(more)
Beachcasting / Boat Reel - Level Wind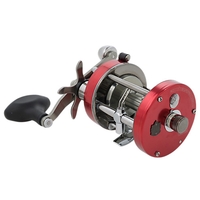 Save £40
Abu Garcia Ambassadeur C-7001 Multiplier Sea Reel - Left Handed. Designed with over 50 years of experience, the original innovators and creators are back with a series of reels that will take your angling to the next level! Stronger, better and more hard wearing than any other reel that Abu Garcia have designed...
(more)
(4)
RRP

£109.99
£69.00
Out of stock
New
Korkers Terror Ridge Boots - Felt With Kling-On Rubber Outsoles. A high performance, fishing wading boot combined with comfort helps you master your pursuit....
(more)