Gun Safes and Gun Cabinets
Uttings has a large range of gun safes and gun cabinets from BSA, Brattonsound and Buffalo River. It is extremely important that you keep your firearms and ammunition securely locked in a gun safe. We stock a selection of gun cabinets in a variety of sizes to suit any shooter's premises and weapon types.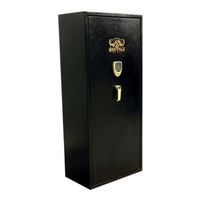 The Buffalo River Safe range has been designed to provide Hunters, Sportsmen and collectors with a functional and attractive security option for their firearms....
(more)
(1)
RRP

£710.99
£589.99
Temp. Unavailable
Made extremely affordable by their simpler design. The Bronze series safes offer a level of security that matches the legislation in many Countries or States. Again they are constructed of folded or full seem welded steel....
(more)
(1)
RRP

£380.99
£329.99
10-14 Days - Supplier Direct
Purchase Options