Chronographs
Airsoft Pro Chronograph suitable only for airsoft....
(more)
New
FX Radar MKII Wireless Bluetooth Chronograph. Introducing the new FX Pocket Chronograph; a wireless radar chronograph that is both portable and packed with features. The Pocket Chronograph communicates via BlueTooth to your smartphone. The app (available for both iOS and Android) will show you the feet per second your gun is at, it will store an exportable shot string, and even list the muzzle energy of your rifle (in either foot-pounds or joules). Users can store profiles for different rifles,...
(more)
(8)
£149.99
In stock
Purchase Options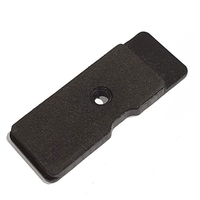 FX Chrono Bipod Adaptor....
(more)