Field Boxes
Flambeau HD Series - Medium Case. The HD Series come equipped with over-molded handles and diced "pluck" foam in the base for full customization. The Medium HD case features thick ribbed walls and our Zerust tab for rust protection and is perfect for multiple hand guns and pistols. It is waterproof with an air-tight seal and airline ready with a pressure screw....
(more)
Refillable box for safe transport of 100 4.5mm calibre diablos, keeps them well protected. Practical for selection during competitions and training....
(more)
(9)
£19.99
In stock
Purchase Options
A snap close, three compartment handy box....
(more)
(3)
£4.99
In stock
Purchase Options
Sporting a gun cleaning kit on top with a rifle maintenance cleaning stand base. It utilizes a two-piece design for compact transport and convenience. This setup is a must have for breaking in a new barrel, testing loads and sighting in rifles. Every one knows, how you run the first box of ammo though your new barrel, will effect it's group sizes the rest of it's life....
(more)
(6)
£64.99
In stock
Purchase Options
Tweed shotgun slip with a traditional flap and buckle opening plus a full-length zip, allowing for easy drying. Bridle Leather shoulder sling, hand-sewn blocked muzzle end and a padded fleece lining are standard features. Made from 100% Wool with a rubber membrain as waterproofing....
(more)
(1)
£74.99
In stock
Purchase Options
The favorite among 22 rifle caliber small bore competitors. Holds 30 rounds - three strings - projectile down for easy handling....
(more)
The SB-200 was not only designed for 22 rifle small bore competitors, but also for varmint hunters and plinkers. It will easily hold 100 rounds in the down position for easy access during competition. Space in the center is available which can hold two full 50 round boxes. Recently retooled and now fits 17 HMR....
(more)
Want to hold up to 50 rounds of 9mm, 30 Luger, 32 S&W, 380 ACP, 9mm Makarov ammo conveniently?. They are stackable for storage, feature an easy-to-grip textured surface and come with a load label. Max. OAL= 1.23"...
(more)
MTM originated the 100 round flip-top handgun ammo boxes over 30 years ago. The Case-Gard P-100's are the perfect ammo carrier for the handgunner who wants to spend several hours at the range. Ideal for storing reloads. They have an easy to grip, scuff-resistant textured surface and are stackable. For 9mm Luger, 380 ACP, 30 Luger, 9mm Makarov ammo. Max. OAL = 1.22"...
(more)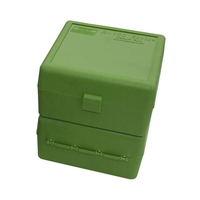 MTM RM-100 - Ammo Boxes. Designed for great afternoon of varmint or competitive shooting. Made of virtually indestructible polypropylene that will not warp, crack, chip, peel, expand or contract, MTM CASE-GARD rifle ammunition cases are still the first choice of rifle enthusiasts throughout the world. Mechanical hinge that is guaranted for 25 years. Snap-Lock latch protects contents from accidental spilling. Textured finish makes it easier to grip and harder to scratch....
(more)
Holds 9 rounds of the following; 17 Rem, 22BR, 223 Rem, 303 Sav., 30-30 Win, 6x47, 7.62x39 Rus....
(more)
Holds 9 rounds of the following; 220 Swift, 22-250 Rem, 243 Win, 250 Sav, 30-06 Spr, 303 Brit, 308, 45-70 Govt., 6mm Rem., 7.65x53 Mauser...
(more)
Hlds 30 rounds 22 long rifle & 17 HMR....
(more)
(1)
£7.99
In stock
Purchase Options
MTM Flip Top Ammo Box .17 HMR, .22. Flip top box for calibres .17 HMR and .22. Holds up to 100 rounds....
(more)
(2)
£3.99
In stock
Purchase Options
The S25-12M holds 25 shotshells in the down position. The latch has been designed to be opened easily, even with gloves. Has a mechanical hinge. The 10 gauge shells fit tight and will loosen up after a few uses....
(more)
(3)
£5.49
In stock
Purchase Options