Field Sports
FREE Spypoint FORCE-P Trail Camera (RRP £169.99) with every Spotting Scope over £1000 - Incredible deal - only while stocks last!
Save £406
For both driven hunts and deerstalking, you can rely on this small all-rounder to ensure rapid target acquisition. Thanks to the higher magnification, the VICTORY HT 1.5-6x42 even allows you to shoot at long range. This means you can enjoy greater flexibility on the hunt....
(more)
Ex-Display Model (Includes Mounts!)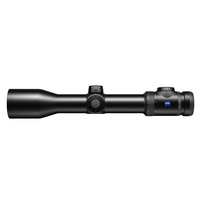 Save £501
Zeiss Victory V8 1.8-14x50 IR ASV-H (Elevation) / ASV-S (Windage) Rifle Scope. This compact all-rounder is suitable for many applications and offers maximum accuracy at any distance. Relaxed viewing and intuitive targeting guarantee fast and reliable shots. The large zoom range with parallax compensation makes this scope the ideal companion in any situation - from driven hunts to stalking and stand hunting in twilight....
(more)