Field Sports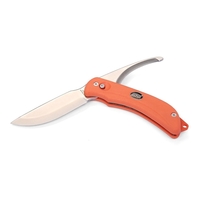 EKA has done it again! The G3 is a new take on the original tried and proven design and concept. The G3 has a more ergonomically designed and formed handle for an exceptional grip and feel in the user's hand. Quickly switch between the Skinning Blade and the Gutting Blade with a simple fluid motion when the lock button is depressed....
(more)
(1)
RRP

£62.95
£54.99
In stock
Purchase Options
EKA FireSharp. EKA's FireSharp is an innovative combination of 2 Sharpeners and 1 Fire Starter. Current version features a thicker, stronger fire steel rod for increased durability....
(more)
Save £10
iProtec Redline RC Magdock 320 Torch. The newest rechargeable REDLINE® is the REDLINE® RC™ with MagDock. The MagDock is a magnetic charging station that docks and charges your REDLINE®. Small enough to fit in the palm of your hand, the REDLINE® RC™ with MagDock is fully equipped with all of the features that make the REDLINE® series so popular....
(more)