Field Sports
Save £100
Delta Optical Titanium OLT 3-24x56 IR SFP Rifle Scope. Delta Optical Titanium 3-24x56 ED is a great riflescope dedicated to hunting and sport shooting at long distances. Unprecedented effectiveness of this high precision optical instrument is based on several innovative reticles specially designed for this model....
(more)
Delta Optical Stryker HD 5-50x56 SFP Rifle Scope. Brand new to the high magnification scope league is the Delta Stryker Target Ultra ED 5-50x56, designed around a 34mm tube with superior ED glass at the center. The ED / HD glass system found within the Delta Stryker Target Ultra ED 5-50x56 is the same glass system that helped to secure the Delta 2.5-15x56 HD a solid reputation that offered not only superb optical quality but great value for money, the Delta 5-50x56 HD is no different....
(more)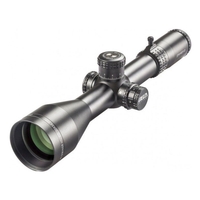 The Delta STRYKER ED 4.5-30x56 HD is undoubtedly a rifle scope that is long overdue in the market. The Delta STRYKER ED features a reticle in the FFP will mil graduations and 0.1 Mil Clicks. The top quality ED glass of the Delta STRYKER ED 4.5-30x56 HD gives bright and rich contrast in its image. The HD / ED glass system is the same as you will find in the highly regarded and sought after Delta Titanium D....
(more)