Meopta Field Sports
The long range perfectionist!
Meopta MeoPro 6-18x50 Rifle Scope. Long range precision with an attractive price. High powered, accurate and dead-on-target, these are the requirements of serious long-range shooters, and the MeoPro 6-18x50 delivers in every way. Crisp, 0.7cm @ 100m windage and elevation adjustments ensure that you will be sighted in the correctly with each and every shot. Third turret parallax adjustment keeps the second focal plane reticle anchored to the intended target, ensuring repeatable, highly accurate r...
(more)
Outstanding quality and reliability at an exceptional price! Plus Meopta 30 Year Warranty!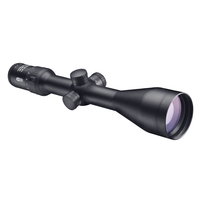 Meopta MeoStar R1r 3-12x56 Rifle Scope. The standard bearer for low-light hunting. A 56mm objective lens, 30mm premium grade internal optics package and our renowned MeoBright 5501 fully multi-coated optics ensure that as afternoon turns to night, you won't have to pack up and go home empty handed. A selection of first-focal plane etched glass reticles and our precise windage and elevation adjustments will make sure that the shot you take will be dead-on-accurate, time and time again....
(more)
Specs that are hard to beat and at a great price! Plus Meopta 30 Year Warranty!
Meopta MeoStar R2 2.5-15x56 Rifle Scope. Designed to be the ultimate low-light choice for big game hunting, the MeoStar R2 2.5-15x56 RD provides crystal-clear resolution and edge-to-edge clarity needed for challenging shooting conditions. The new 6x zoom range offers the versatility needed for short range out to extended distances, making the scope an ideal choice for a wide range of rifles and game....
(more)