Field Sports Special Offers
Filters Ignored
You have selected four or more brands, only three brands can be shown at once (please remove one or more of the current brands to display the new one).
Reset all filters
Save £2
The HSF Camo T Shirt is perfect for layering up with other garments or as a lightweight alternative to heavy camo jackets. The HS camo T-shirt with its high contrast GC pattern is a low cost and versatile addition to any hunting outfit....
(more)

(1)
WAS

£7.99
£5.00
Check stock
Purchase Options
Polyester micro tricot shell with Thinsulate insulation keeps you warm and dry.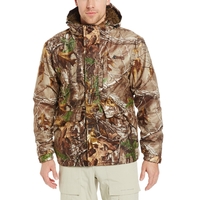 Save £120
(1)
RRP

£169.99
£49.00
Check stock
Purchase Options
Extremely quiet and quells your scent!
Save £79
Rocky Silent Hunter Rainwear Trousers. If you need hunting gear, the SilentHunter Rain Trousers by Rocky with Realtree camo is a great option for stealth and comfort. Rocky's specially-designed SilentHunter suede is extremely quiet outerwear option, so you don't give away your position to your prey....
(more)
(1)
RRP

£114.99
£35.00
Check stock
Purchase Options