Field Sports Special Offers
Filters Ignored
You have selected four or more brands, only three brands can be shown at once (please remove one or more of the current brands to display the new one).
Reset all filters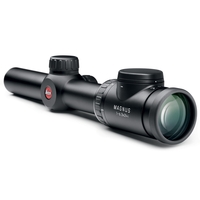 Save £501
Leica Magnus i 1-6.3x24 IR Rifle Scope. Due to its combination of maximum resolving power, an extremely broad overview and an astoundingly wide field of view of 44 metres at 100 metres, the Magnus 1?6.3x24 i ensures significantly greater safety and hunting success....
(more)
Save £201
Leica Magnus i 1.5-10x42 IR Rifle Scope. Thanks to its 6.7-fold zoom factor, the Magnus 1.5-10x42 i is as multi-faceted as hunting itself. This riflescope is a universal all-rounder for stalking, shooting from blinds or driven hunts, at close or long range, and offers maximum versatility and superior accuracy in every hunting situation....
(more)
Save £201
Leica Magnus i 1.8-12x50 IR Rifle Scope. The new Magnus 1.8–12x50 i is an ideal addition to our high-quality Magnus line. Thanks to its compact dimensions and a large, 50 mm objective lens, it is an extremely versatile riflescope for hunting from blinds and when stalking. Its outstanding zoom factor and a minimum magnification of 1.8x also make it the ideal choice for driven hunts....
(more)