Field Sports
Filters Ignored
You have selected four or more brands, only three brands can be shown at once (please remove one or more of the current brands to display the new one).
Reset all filters
Caldwell Ballistic Precision Chronograph. The Ballistic Precision Chronograph provides accurate velocity measurements across a wide range of shooting conditions. This Chrono has the ability to provide much better accuracy than other chronographs on the market (+/-.25%)....
(more)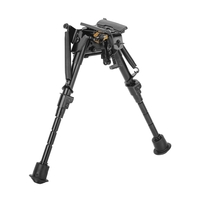 Caldwell XLA Bipod - Pivot. In the real world of hunting, the chances of the ideal shot opportunity occurring while on a level ground are slim-to-none. A pivoting bipod allows the shooter to compensate for ground that is unlevel by up to 20 degrees. The lower portion of the bipod pivots independently from the upper stock mount, allowing the firearm to be quickly leveled on uneven ground. The tension knob can be adjusted to control the resistance of the pivoting motion....
(more)
(1)
From

£69.99
Check stock
Purchase Options