Field Sports
Filters Ignored
You have selected four or more brands, only three brands can be shown at once (please remove one or more of the current brands to display the new one).
Reset all filters
Caldwell Rock Deluxe Shooting Rest. The best way to determine the accuracy of your rifle and ammunition is to shoot them from a solid bench -- with a quality shooting rest. With precise repeatability of shots as your goal,The Rock Deluxe Front Rest is the right tool for the job. The Rock helps eliminate the "human factor" in shooting and will help you shoot tighter groups....
(more)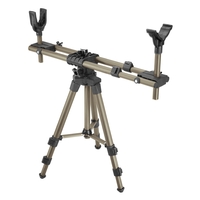 Caldwell Deadshot Field Pod. Achieve benchrest accuracy when it counts most - in the field. Caldwell is known for producing rock solid shooting rests; the FieldPod is a highly portable Hunting Rest that allows you to bring that same stability along on the hunt. Its innovative design and versatility make it perfect for a variety of hunting applications....
(more)
Save £5
Carbon fiber legs are super strong and lightweight, with non-slip rubber feet. One of the lightest sitting bipods on the market at 13 oz and perfect for predator hunters or big game hunters, this bipod comes in 3 sizes....
(more)