Field Sports
Filters Ignored
You have selected four or more brands, only three brands can be shown at once (please remove one or more of the current brands to display the new one).
Reset all filters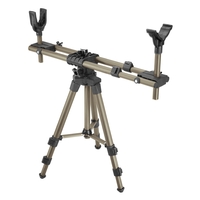 Caldwell Deadshot Field Pod. Achieve benchrest accuracy when it counts most - in the field. Caldwell is known for producing rock solid shooting rests; the FieldPod is a highly portable Hunting Rest that allows you to bring that same stability along on the hunt. Its innovative design and versatility make it perfect for a variety of hunting applications....
(more)
Caldwell Deadshot Field Pod MAX. Caldwell® is known for producing rock solid Hunting Rests and the DeadShot® FieldPod MAX is no exception. This highly portable hunting rest allows you to bring the same stability as the Original DeadShot FieldPod along with you on the hunt....
(more)
Caldwell Stinger Shooting Rest. The Caldwell Stinger Shooting Rest combines a great looking design with ultimate user functionality and rock solid stability into an affordable shooting rest. Central to the design is the innovative front elevation system. A spring loaded, height adjustment know allows for fast, one handed coarse elevation adjustment. The cutting edge molded front and rear supports protect the firearms finish and provide just the right amount of firmness for rock-solid shots. The...
(more)
Caldwell Precision Turret Shooting Rest. Find comfort in having full range of motion and secure gun placement with the Caldwell Precision Turret Shooting Rest. Eliminate time wasted readjusting the shooting rest and spend more time shooting by utilizing the swivel/pan and tilt knobs. This firearm rest is heavy duty and features a forend clamp and micro-adjustable pistol grip attachment to ensure stability of the gun while in motion. There is no better feeling than getting to the range and being...
(more)