Field Sports
Filters Ignored
You have selected four or more brands, only three brands can be shown at once (please remove one or more of the current brands to display the new one).
Reset all filters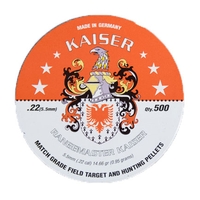 Daystate have been supplying their own-brand Rangemaster pellets for many years and have always been noted for their high quality and the company's attention to detail when dealing with airgun ammunition, observing that the best airguns in the world will always need an equally good pellet!...
(more)

(9)
From

£12.99
Check stock
Purchase Options
For optimum performance, use Daystate Rangefinder Pellet Lube to clean your barrel to help to reduce the build up of lead and prevent corrosion....
(more)

(7)
£11.99
In stock
Purchase Options
Custom dark green waterproof polyester shell with Weihrauch HW100 branding and zip closure. Bag features Dark brown leather sling, carrying handles and trim with brass fittings. Accessories pocket with integral section for storage of air cylinder and zip closure. Available in lengths to suit both standard and karbine length rifles. English made....
(more)

(9)
£114.99
Check stock
Purchase Options