Field Sports
Filters Ignored
You have selected four or more brands, only three brands can be shown at once (please remove one or more of the current brands to display the new one).
Reset all filters
Highly successful with Muntjac, Sika and Roe Deer....
(more)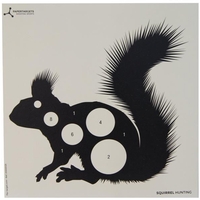 Gamo Paper Targets - Squirrel - 50pk. Manufactured from sustainable raw materials to safeguard the forestry's future. In packs of 50. 17cm x 17cm....
(more)
(1)
£4.99
In stock
Purchase Options
KG KG-1 Carbon Remover. KG-1 was the first product introduced to the shooting sports industry to specifically meet the need to remove carbon buildup and is the first step in the cleaning process....
(more)
(3)
£8.99
In stock
Purchase Options
KG KG-2 Bore Polish. KG-2 was originally developed to maintain the bore integrity of rifles. Unlike most other mechanical products, KG-2 contains no ammonia and is a 1200-1400grit soft compound to remove copper and lead, while leaving the integrity of the bore. 4oz bottle....
(more)
(1)
£18.99
In stock
Purchase Options
KG KG-3 Solvent & Degreaser. KG-3 is a non-chlorinated ozone safe formula used to remove the residue loosened by KG-1, KG-2, KG-12 and for cleaning and degreasing parts. KG-3 contains a special formulation of fast drying, water-displacing solvents which will rapidly cut through oil and grease without leaving a residue. 19oz cannister....
(more)
KG KG-4 Gun Oil. KG-4 Gun Oil meets the stringent requirements set forth in the original Military Specification Mil-L-63460 D. It is a blend of the finest lubricants available and contains no synthetics. 2oz bottle....
(more)
(1)
£9.99
In stock
Purchase Options
KG KG-12 Big Bore Cleaner. KG-12 was developed specifically to clean the copper fouling from large bore military weapons. KG-12 provides professional shooters, gunsmiths, armorers, hunters and other firearm enthusiasts with a product that will remove the toughest copper fouling without damaging the bore. 4oz. bottle....
(more)
(1)
£16.99
In stock
Purchase Options