Yellow Sunglasses
New
Beretta Challenge Shooting Glasses....
(more)
RRP

£44.95
£39.99
Out of stock - Email me
Beretta Polarised Sunglasses. Polarised lenses improve sight in particular conditions and offer glare reduction. Comes with 2 different nose types and a rigid case....
(more)
RRP

£99.95
£84.99
Out of stock - Email me
Save £59
Lenz Tay Acetate Sunglasses. Are you tired of specialized sunglasses for fishing that make you look super nerdy? The Tay might as well have been a pair of high-end fashion sunglasses, but besides their modern and elegant look, they provide you with optimal fish-spotting qualities....
(more)
Oakley Jawbreaker Retina Burn Prizm Road Sunglasses. Jawbreaker™ is the ultimate sport design - answering the demands of world-class athletes with a 40 year heritage of uncompromising excellence. Oakley innovation has reached the pinnacle of performance by offering everything from surge ports for cooling airflow to Unobtainium® components for a comfortably secure fit, and with the hassle-free lens changing of Switchlock™ technology for vision optimization in any setting....
(more)
Oakley Radar EV Path Retina Burn Prizm Road Sunglasses. A new milestone in the heritage of performance, Radar® EV takes breakthroughs of a revolutionary design even further with a taller lens that extends the upper field of view. From the comfort and protection of the O Matter® frame to the grip of its Unobtanium® components, this premium design builds on the legacy of Radar innovation and style....
(more)
(1)
RRP

£160.00
£119.00
In stock
Purchase Options
Exceptional performance, with style to match....
(more)
Save £6
Snowbee Magnalite Full Frame Sunglasses. The 2014 range of Magnalite Sunglasses use magnesium alloy frames offering superior strength and rigidity but weigh in at just 26.5g for all-day fishing comfort....
(more)
Snowbee Prestige Gamefisher Sunglasses. A stylish new range combining a simple, sleek design with a close-fitting wrap-around style....
(more)
Snowbee Prestige Streamfisher Sunglasses. A classic design with sleek, contoured frame arms. Fitted with rubberised frame arm tips and nose pads for improved comfort and grip....
(more)
If like many of us, you now require reading glasses for close-up work, the hassle this involves when changing flies, will be only too well known to you! This innovative new design features lightweight nylon frames, with quality Polarised Polycarbonate lenses. Laminated to the bottom of the lenses are small +2.5 magnifier lenses. Avaiable in Black frames and choice of Smoke or Amber lenses they also come with a hard case and soft glasses bag....
(more)
New
Wiley X Boss Gold Mirror Polarized Sunglasses....
(more)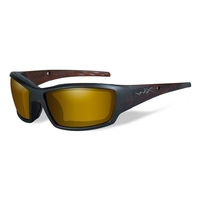 Wiley X Tide Gold Mirror Polarized Sunglasses....
(more)