Camera Accessories
Bisley Lens Cleaner - 100ml. Maximises clarity and brilliance. Our formulation is deliberately gentle to ensure that lacquer finishes are not harmed. The non smearing solution will enhance shooting, particularly in low light conditions. The Anti Static formulation will reduce further particles attaching to the lens. 100ml pump spray....
(more)
(3)
£4.99
In stock
Purchase Options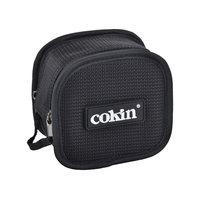 Save £19
Cokin Filter Wallet. The A306 wallet holds up to 7 A-series (previously 'S-size') filters with filter holder and adaptor rings. It features a removable compartment pouch which once removed enables the A305 filter box to be stored in the wallet. A neck strap and belt attachment is included....
(more)
(1)
RRP

£31.00
£12.00
In stock
Purchase Options
Vanguard 2Go 30 Bag. 2GO messenger is a sleek, hassle-free bag for bringing your camera and other items along - wherever you go! Inside 2GOs main compartment, a soft inner box securely holds your camera and flash or extra lens, leaving space for other daily needs. Transform 2GO into an everyday messenger bag by simply removing this compartment....
(more)
RRP

£59.99
£30.00
Out of stock