Footwear
Entry level wader with high level quality and details. Atom is a lightweight wader made throughout from strong 3 – layer fabric. Neoprene socks have denser bottom parts for maximum wear resistance and longevity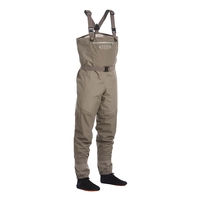 New
Vision Atom Waders. Entry level wader with high level quality and details. Atom is a lightweight wader made throughout from strong 3 – layer fabric. Neoprene socks have denser bottom parts for maximum wear resistance and longevity and the wader's overall cut minimises seams in critical areas. The big chest pocket holds lot of items and the inner flip pocket is ideal place for items which you want to keep in a safer place. The flip pocket also has Velcro for attaching a separate waterproof phone...
(more)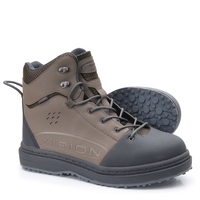 Vision Koski Gummi Wading Boots. Strong but lightweight Koski boot is made from durable PVC material. This material doesn't absorb water like fabrics, so it dries quicker and feels lighter. The PVCs characteristics make this boot very supportive and gives the boot a good stability and torsional stiffness. The upper of the boot is stitched to the moulded EVA mid-sole for strength....
(more)
Musta Michelin is a modern, lightweight wading boot
Vision Musta Michelin Wading Shoe. Musta Michelin is a modern, lightweight wading boot with TPU re-enforced ballistic polyester upper. The TPU print in designed areas give good wear resistance without making the boot too bulky and heavy. The boot is easy to get in and it tightens easily. For added strength, the stitch lines have their own grooves and the EVA mid-sole and the front bumper of the Michelin sole are stitched to the boots upper....
(more)

(1)
RRP

£199.99
£179.99
Check stock
Purchase Options