Lanterns Special Offers
Save £15
Biolite PowerLight Mini. Go hands free with this ultraslim clippable lantern that moves with you for on-the-go light and power. Slip it onto a pocket or strap and avoid harsh glares with BioLite edge-lighting, helping you see and be seen on the trail or on your commute. A 1350mAh USB rechargeable battery provides up to 52 hours of light or a backup boost to your phone. It's a headlamp, lantern, and bikelight all in one highly compact form....
(more)
Rechargeable work light which is lightweight, versatile, durable and reliable!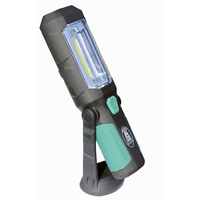 Save £5
Clulite WL-5 COB LED Rechargeable Worklight. Professional quality COB LED rechargeable worklight. Super bright rechargeable torch and magnetic worklight perfect for DIY, camping, mechanics, fishing and emergency use....
(more)
(1)
WAS

£24.99
£19.00
In stock
Purchase Options
Save £6
HyCell Working Lamp SMD-LED. Extremely bright working lamp due to new SMD-LED technology featuring rugged housing with rubberized surface....
(more)