Camping & Trekking
Save £131
Vaude Arco 2P Tent. Your home away from home: roomy 3-season tunnel tent for two people. The large inner room provides lots of sleeping space and generously conceived storage space for trekking gear and packs. Venting openings in the ridge ensure efficient air circulation. The Campo Arco 2P can be pitched quickly and is strong enough to take on a storm. The ideal start-up tent for trekking tours in mild climate zones....
(more)
2 Man - 3 Seasons Super Ultralight Tent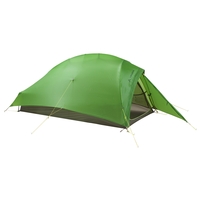 Save £90
Vaude Hogan SUL 2P Tent. Defies wind and weather! Our extremely lightweight 3-season tent with an inner-first construction for weight-conscious watching and mountaineers is extremely wind resistant and durable. In addition, both sides are siliconized for even better weather protection at a low weight....
(more)
1 Man - 3 Seasons Giga Ultralight Tent
Save £161
Vaude Lizard GUL 1P Tent. Light, lighter, Lizard! For true weight fetishists – an extremely lightweight (just 690 g!) 3-season tent that can still stand its own against storms with full waterproof durability....
(more)
Save £16
Floor Protector from Vaude perfectly tailored to fit your Vaude Power Lizard SUL 2-3P tent....
(more)
Save £11
Protect your tent's groundsheet with this robust floor protector designed to fit exactly to your tent's footprint....
(more)