Tripods
This robustly constructed model combines excellent stability, with precise control, and is ideal for a wide variety of imaging equipment. Comfortably manages all Spotting Scopes and Observation Binoculars of up to 100mm Diameter. Can be used effectively indoors, or in the field. Recommended for Serious Nature Observing, Astronomical Observing and Video applications....
(more)
(3)
RRP

£99.99
£89.99
In stock
Purchase Options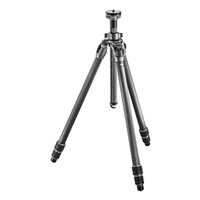 Gitzo GT2532 Mountaineer Series 2 Carbon Tripod. The Gitzo GT2532 series 2 Carbon Fiber Tripod is a lightweight 3-section tripod that reliably supports DSLRs with 200mm lenses (up to 300mm). This professional solution features Carbon eXact tubing with stiffer and larger leg diameters (top leg section diameter 29.0mm) and high modulus carbon fiber lower leg sections, which make this tripod far more rigid and stronger than others in its category....
(more)
Save £400
Gitzo GT3543XLS Series 3 Systematic Tripod - 4 Section - Extra Large. The Gitzo GT3543XLS Series 3 Systematic Tripod XL is a powerful, 4-section, professional carbon fiber tripod designed to securely elevate longer lenses and heavy cameras. It is the perfect combination of elevation, lightness, durability, and uncompromising stability....
(more)