Grey Photography
Quick release medium plate. Gitzo quick release plates come in three different profiles (A, B and C). Each profile is offered in different lengths (short or square, medium and long) and with different features (graduated, anti rotation pin) and attachments (1/4'' - 3/8''). In the new collection Gitzo unified some 1/4'' and 3/8'' attachment plates into a unique new code that includes 2 screws for both 1/4'' and 3/8'' sizes. Having two screws available for each attachment size is ideal, above all...
(more)
The perfect photographic travel companion!

Gitzo GKTBB Mini Traveler Tripod Kit. The Gitzo Mini Traveler is especially dedicated to professional photographers and promising amateurs who use mirrorless cameras or DSLR cameras with small lenses. This mini tripod provides great stability on a tabletop as well as on the ground and many other surfaces, unleashing photographers' creativity without the hindrance of cumbersome equipment. It is the perfect photographic travel companion for those who want to travel light and fully equipped with re...
(more)
Save £90
Adventure sport athletes who like to go fast and light — but equally like to capture the moment — will enjoy the freedom of Lowepro's Photo Sport Sling 100 AW pack....
(more)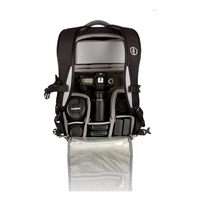 Save £75
Tamrac Nagano 16L Camera Backpack. An outdoor-focused pack, the Nagano 16L is built to house compact DSLRs, mirrorless systems, and action cameras. This rear-entry pack yields a surprisingly high volume carrying capacity, able to carry an 11" laptop or tablet, lenses up to 16" (54cm) in length, flash units, compact DSLR bodies, accessories, and more. The 12L pack also features durable, weather resistant fabrics, expandable side pockets, and an upper padded compartment for extra gear or persona...
(more)