Optics
Filters Ignored
You have selected four or more brands, only three brands can be shown at once (please remove one or more of the current brands to display the new one).
Reset all filters
Bisley Lens Cleaner - 100ml. Maximises clarity and brilliance. Our formulation is deliberately gentle to ensure that lacquer finishes are not harmed. The non smearing solution will enhance shooting, particularly in low light conditions. The Anti Static formulation will reduce further particles attaching to the lens. 100ml pump spray....
(more)
(3)
£4.99
In stock
Purchase Options
By cupping the eye and obliterating exterior light this Scope accessory forces the eye to adjust to obtain the maximum amount of light through the scope. Test have resulted in extended use of twilight by up to 15 minutes. Suitable for spectacle wearers and most scopes....
(more)
(3)
£14.99
In stock
Purchase Options
These scope extension eyepieces come in 60mm or 90mm in length and will fit most 1" scopes....
(more)
(3)
From

£7.49
Check stock
Purchase Options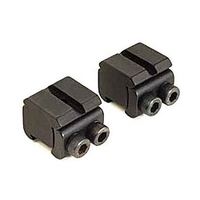 Allows night sights/range finding scopes to be fitted to air rifles/rimfires....
(more)
(1)
£37.99
In stock
Purchase Options
Allows our comprehensive range of 9.5 - 11.5 mm mounts to be fitted to Weaver / Picatinny rails....
(more)
(1)
£37.99
In stock
Purchase Options