Lamps, Torches & Batteries
Penetrating 1000m spot beam!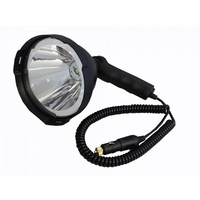 Save £15
Clulite Trailblaser 4000 (inc. Red Filter). Hot off the production line the all newTrailblaser handheld spotlight sporting a 1000 meter spot beam from a single focused 45 watt LED light source giving a dream of a beam....
(more)
(5)
WAS

£84.99
£69.00
In stock
Purchase Options
Glare reducing filter kit for use with the MG125....
(more)
Save £30
PAO LumenMAX 900 Hunting Lamp System Kit. The LumenMAX 900 IR is ultra-light, weighing in at only 230g (excluding battery) to keep the Hunter's night-time rig manageable and manouverable. The comprehensive kit includes the 900 Lumens output LED torch, utilising the latest CREE XML2 U4 Chip-set with constant current circuitry that extends battery life and ensures consistent brightness for up to 2 hours at maximum brightness and up to 30 hours at 40 Lumens, with a visibility range of up to 500 met...
(more)
(5)
RRP

£119.99
£89.00
In stock
Purchase Options