Lamps, Torches & Batteries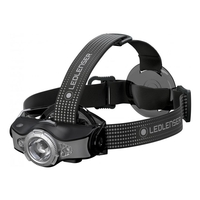 LED Lenser MH11 Rechargeable Headlamp. Turning night into day, the MH11 has been developed with adventurers in mind. An incredible 1000 lumens on boost mode and a beam range of 300 metres means you won't lose the trail ahead of you. This multi-function head torch has multiple light options, including a red, green and blue mode and will automatically dim based on the ambient light available. You can also remove the torch from the band to be used as a hand-held torch. Ledlenser's innovative techno...
(more)
Delightfully small yet surprisingly powerful. This miniaturised torch comes in an attractive presentation case with battery and a connecting key ring. Ideal for purse, pocket, handbag, glove compartment and more....
(more)
RRP

£10.99
£8.99
Out of stock - Email me
Complete with pocket clip and 2 batteries...
(more)
Complete with 2 batteries...
(more)
RRP

£18.99
£14.99
Out of stock - Email me