Lamps, Torches & Batteries
New
LED Lenser MH8 Rechargeable Headlamp. Wherever you find yourself, the MH8 will guide you home. The convertible design allows it to be easily used as a head torch, handheld torch or a body light. With a choice of energy saving and constant current mode you can choose the performance level with a focus on run time or brightness. The light can be rotated through 50° and focused into a distant spot light or a near flood light to give you full control. These functions are topped with the ability to s...
(more)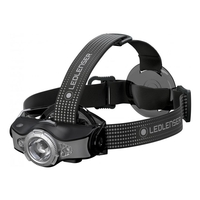 LED Lenser MH11 Rechargeable Headlamp. Turning night into day, the MH11 has been developed with adventurers in mind. An incredible 1000 lumens on boost mode and a beam range of 300 metres means you won't lose the trail ahead of you. This multi-function head torch has multiple light options, including a red, green and blue mode and will automatically dim based on the ambient light available. You can also remove the torch from the band to be used as a hand-held torch. Ledlenser's innovative techno...
(more)
Compact and powerful headlamp ideal for hunting and fishing! White or red/green/blue lighting to preserve night vision and ensure stealth! 350 Lumens!

Petzl Tactikka+ RGB Headlamp. Headlamp with CONSTANT LIGHTING technology and lighting that allows for stealth and night vision preservation for hunting and fishing. 140 lumens max...
(more)