Field Accessories
New
HotRox Electronic Hand Warmer - Double Sided Heat With Power Bank. The New HotRox Double Sided Electronic Hand warmer with Power bank feature. HotRox is recharged from USB, so can be charged from any existing mains USB Charger or PC. It sits comfortably in the palm of your hand and provides heat on demand, it lasts up to 6 hours , has two heat settings (45 and 50 degrees) and gives 2 full charges to your smartphone. HotRox is a lifestyle product - keep in touch and keep warm!...
(more)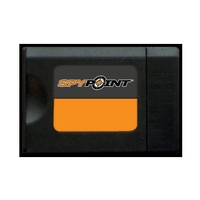 Save £4
Spypoint Sound Card. Sound card for Universal Game Caller. Available in 7 different sounds....
(more)
Save £14
Spypoint Wireless Controller For Game Caller. The wireless controller allows the volume to be adjusted and the call sound to be selected on SpyPoint's Game Caller....
(more)