Other Fishing Accessories
Filters Ignored
You have selected four or more brands, only three brands can be shown at once (please remove one or more of the current brands to display the new one).
Reset all filters
Cocoons Slim Line Polarized Sunglasses. A Soft Touch, jet-black chassis is complimented with a polarized Amber lens system. Scientifically engineered to cut through harsh glare, the amber lens increases contrast and improves depth perception. Extremely popular for use on or near the water, amber is also a great choice for driving. A truly iconic fitover design, the patented Slim Line is a mid-sized fitover with a definitive unisex styling....
(more)
(1)
£49.99
In stock
Purchase Options
Cocoons Wide Line Polarized Sunglasses. A jet-black chassis provides a low-key canvas for a dazzling blue mirror lens system. The gray tint provides natural color definition while the glare cutting performance in enhanced with a brilliant blue mirror coat. Our scratch resistant mirror finish is extremely popular for use in highly reflective, harsh glare conditions such as on the water or in the snow....
(more)
(3)
£49.99
In stock
Purchase Options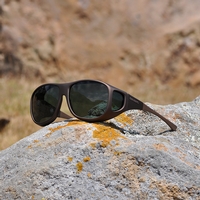 Cocoons Pilot Polarized Sunglasses. A Soft Touch, wet sand chassis is paired with a polarized gray lens system. The Polaré gray tint is one of the most popular choices as it provides true color representation while eliminating glare and harmful UV rays. The earth tone of the sand finish matches well with the gray lens tint. Second in size to the Aviator, the Pilot accomodates large prescription glasses whilst providing maximum coverage and comfort....
(more)
(2)
£49.99
In stock
Purchase Options