Fishing Shirts Special Offers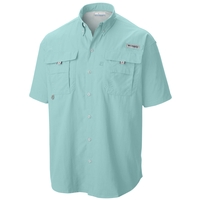 Save £25
Columbia PFG Bahama II Short Sleeved Shirt. Designed specifically for the needs of anglers, this lightweight, durable nylon shirt dries fast, with mesh-lined cape vents at the back shoulder to keep you cool and built-in UV protection....
(more)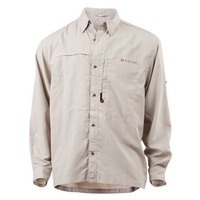 Save £29
Greys Strata Fishing Shirt. Lightweight quick drying technical fishing shirt with excellent UV protection Featuring button up sleeves, 2 zipped pockets and mesh ventilation....
(more)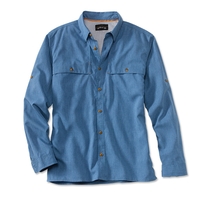 Orvis Sandpoint Shirt. Technical performance meets the classic look of linen. Quick-dry fabric with mechanical stretch makes this button-front shirt perfectly suited for the beach or the dining table....
(more)
Save £6
Orvis Open Air Caster Long Sleeve Shirt. Orvis's lightest and most ventilated fly fishing casting shirt. Perfect for late spring and summer tropical fishing. Dries quickly and promotes evaporative cooling....
(more)
Save £20
Simms Bugstopper Shirt. Savvy fishing shirt for fighting harsh sun, humidity, and hatches that bite back. Simms' BugStopper® long-sleeve blocks sun, dries quick, wicks, and fights swarms thanks to advanced InsectShield® tech. Plaids have a polyester-nylon blend, while solids feature 100% nylon fabric. Two zip-secure chest pockets are fly-box compatible. Articulated elbows enhance mobility. And a sunglass chamois inside the bottom hem keeps optics clear. Traditional fit comes standard....
(more)
(1)
RRP

£99.90
£79.00
Check stock
Purchase Options
Save £30
Simms Ultralight Long Sleeved Shirt. Weighing in at an airy 5.5 ounces, Simms' Ultralight LS Shirt will elevate your fishing with UPF30 COR3 tech that wicks moisture, blasts odor, and breathes easy out the door and into the oven. Rugged ripstop polyester fabric with mechanical stretch moves with your body, while laser-cut side venting helps dump heat and drive airflow....
(more)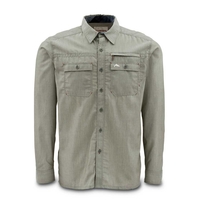 Save £24
Simms Cuda Long Sleeve Shirt. Simms' Cuda LS shirt takes classic workwear style and ramps up performance via advanced fabric treatments and enhanced storage options....
(more)