Fishing Shirts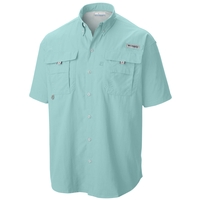 Save £25
Columbia PFG Bahama II Short Sleeved Shirt. Designed specifically for the needs of anglers, this lightweight, durable nylon shirt dries fast, with mesh-lined cape vents at the back shoulder to keep you cool and built-in UV protection....
(more)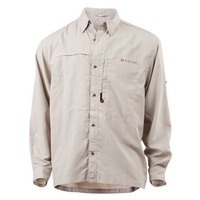 Save £29
Greys Strata Fishing Shirt. Lightweight quick drying technical fishing shirt with excellent UV protection Featuring button up sleeves, 2 zipped pockets and mesh ventilation....
(more)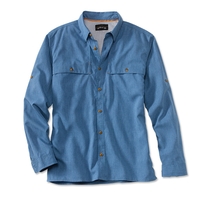 Orvis Sandpoint Shirt. Technical performance meets the classic look of linen. Quick-dry fabric with mechanical stretch makes this button-front shirt perfectly suited for the beach or the dining table....
(more)
Save £6
Orvis Open Air Caster Long Sleeve Shirt. Orvis's lightest and most ventilated fly fishing casting shirt. Perfect for late spring and summer tropical fishing. Dries quickly and promotes evaporative cooling....
(more)
Simms GT Tricomp Long Sleeve Shirt. Double your haul and row for broke in Simms' GT Tricomp LS shirt, with Action-back patterning for flexibility across a range of fishing motions....
(more)
Save £20
Simms Bugstopper Shirt. Savvy fishing shirt for fighting harsh sun, humidity, and hatches that bite back. Simms' BugStopper® long-sleeve blocks sun, dries quick, wicks, and fights swarms thanks to advanced InsectShield® tech. Plaids have a polyester-nylon blend, while solids feature 100% nylon fabric. Two zip-secure chest pockets are fly-box compatible. Articulated elbows enhance mobility. And a sunglass chamois inside the bottom hem keeps optics clear. Traditional fit comes standard....
(more)
(1)
RRP

£99.90
£79.00
Check stock
Purchase Options
Simms Black's Ford Flannel Shirt. Do it all on the water and off in the comfort and style of Simms' go-anywhere Black's Ford LS Flannel. Features include a soft, cotton-like feel, two asymmetrical, button-secure chest pockets, and a tailored slim fit that won't slow you down....
(more)
Save £30
Simms Ultralight Long Sleeved Shirt. Weighing in at an airy 5.5 ounces, Simms' Ultralight LS Shirt will elevate your fishing with UPF30 COR3 tech that wicks moisture, blasts odor, and breathes easy out the door and into the oven. Rugged ripstop polyester fabric with mechanical stretch moves with your body, while laser-cut side venting helps dump heat and drive airflow....
(more)
Simms Ultralight Long Sleeved Shirt. Whether bluewater expedition or flats feast—Simms' new Ultralight LS shirt features distinct laser-cut panels under the arms that emphasize both style and breathability. Lightweight ripstop fabric with mechanical stretch enhances durability and mobility. And COR3™ technology boosts quick-dry, wicking, anti-odor and UPF 30 sun performance....
(more)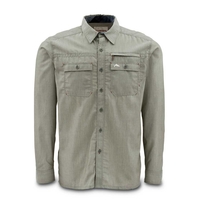 Save £24
Simms Cuda Long Sleeve Shirt. Simms' Cuda LS shirt takes classic workwear style and ramps up performance via advanced fabric treatments and enhanced storage options....
(more)
Simms Intruder Bicomp Long Sleeved Shirt. Simms' new Intruder Bicomp shirt brings performance to prodigious fishing missions thanks to materials working in concert to help you fish. The main body is cut from woven polyester for appreciable durability, while knit sides and arm panels deliver comfort and mobility when casting or rowing....
(more)
Snowbee Fishing Shirts go back to first principles – cool comfort. Having tried all the latest nylon & polyester 'technical fabrics' Snowbee came to the conclusion that these are fine stood on the deck of a flats boat with a cooling breeze, but in more temperate climates are like standing in a bin-bag! Snowbee's technically advanced Poly/Cotton fibre speeds up body moisture absorption, wicking it quickly to the outside, where it can evaporate....
(more)
(3)
RRP

£49.99
£39.99
Check stock
Purchase Options
Snowbee Solaris Long Sleeve Fishing Shirt....
(more)
Snowbee Solaris Short Sleeve Fishing Shirt....
(more)
Tilley Long Sleeve Bush Shirt. Made in a durable lightweight fabric, our Urban Safari Bush Shirt proves to be extremely versatile. The classic styling ensures it's appropriate for a wide range of travel activities....
(more)
(1)
RRP

£100.00
£89.00
Check stock
Purchase Options