Multiplier Reels Special Offers
New Compact design.Ideal for Beach and light Boat Fishing
Save £74
Abu Garcia Ambassadeur 7000C Compact Multiplier Reel. The new Swedish made Ambassadeur 7000C Compact offers anglers a reel that is the same size as the Ambassadeur 6000, but with greater line capacity. Brass gears and a Carbon Matrix drag system combined with an increased spool diameter make this an extremely compact and comfortable reel....
(more)
Suitable for Light Saltwater and freshwater use.
Save £114
Abu Garcia Orbis 5000 Multiplier Reel. Traditional Swedish craftsmanship at its finest. The Ambassadeur 5000 Orbis is a refelction of the first Ambassadeur reel launched in 1952. Famous ABU red on the outside, advanced engineering on the inside....
(more)
Narrow Spool Boat Reel. Suitable For Deep Water Fishing.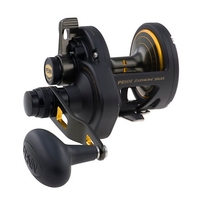 Save £60
Penn Fathom 25 N - 2 Speed Lever Drag Multiplier Boat Reel - Left Hand Wind. The PENN Fathom lever drag 2-speed series of reels are compact but loaded with big features. Featuring a Full Metal Body, stainless steel main and pinion gear, Dura-Drag washers, and a double dog ratchet anti- reverse you will find there is no stopping these reels....
(more)