Shooting Gilets & Waistcoats
Lined waistcoat with built-in heating membranes that can be set to exactly the temperature you desire!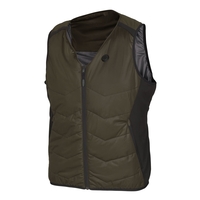 Save £50
Harkila HEAT V-Neck Waistcoat. The Härkila Heat V-neck Waistcoat is a lined waistcoat with a large built-in heating membrane in the back that can be set to exactly the temperature you desire. The waistcoat packs into the supplied drybag, making it easy to carry with you anywhere. The V-neck design is the obvious choice for shooting parties where shirt and tie are de rigueur....
(more)
Windproof Polartec Windbloc membrane!
Harkila Stornoway Active Waistcoat. The Stornoway Active Shooting Waistcoat is made from a breathable fabric with Polartec Windbloc, making it completely windproof. The waistcoat is reinforced with micro-suede at the shoulders, and has large cartridge pockets and a two-way zip....
(more)
Self-heating, lightweight outdoor gilet - instant warmth and comfort when you need it!
New
Shooterking iHeat Vest. The built-in thermostat will intelligently maintain a temperature between 30oC and 53oC when set using the app. Alternatively, pre-set temperatures of 38oC, 46oC or 53oC can be maintained using the I-Heat push button integrated into the garment....
(more)