Fishing Vests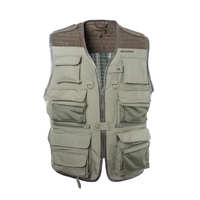 Snowbee Long Fly Fishing Waistcoat. The return of our original English style Long Fly Fishing Waistcoat but with a modern twist. Over the past 10 to 15 years we have all adopted the American style 'mid-length' fly vests which double as bank or wading vests. However, Snowbee are constantly asked by bank anglers for a long style waistcoat, so here it is! It's based on the original model from many years ago, but updated with new materials, new pocket designs and modern features....
(more)

(6)
RRP

£99.99
£85.00
Check stock
Purchase Options
The Superlight range of Fly Vests offers all the features of top quality vests, but at a fraction of the price. Made from 100% Nylon Taslon material, these vests are so light you won't know you are wearing them! And best of all the Taslon material is 100% waterproof, so if you do get caught out in a shower, it will help keep the pocket contents dry....
(more)

(4)
RRP

£54.99
£47.99
Check stock
Purchase Options
The Geo Fly Vest offers quality, style and above all functionality, all rolled into one. Using the latest CVC material, this novel blend of 50% cotton, 50% polyester gives the soft feel of brushed cotton, coupled with the strength, durability and fast drying properties associated with polyester. Designed by fly-fishers, every pocket is there for a reason and not just because there was space available....
(more)

(3)
RRP

£97.99
£79.00
Check stock
Purchase Options