Ex-Demo, Returns Special Offers
Ex-Demo - A1 condition, packaging slightly damaged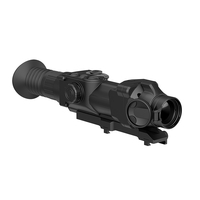 Save £650
Pulsar Apex XD50 Thermal Weapon Scope. Functional and convenient, compact and lightweight thermal vision riflescope in a durable body that brings all advantages of thermal vision to professional hunters. Offers 3 modes of calibration including noiseless calibration and 3 modes of image processing....
(more)
Ex-Demo - New, with some scratches - See additional images
Save £71
Designed to keep all feet on deck, the Sebago Clovehitch II Shoe is a functional, two-eye handsewn features premium Nubuck and full grain leather uppers with breathable Drilex® Hydrofil® mesh panels....
(more)
Ex-Demo - New, Not In Original Packaging.
Save £10
Additional rechargeable lithium battery. This type of battery is less affected by cold temperatures and lasts up to 3 times longer than alkaline batteries. Compatible with all Spypoint cameras....
(more)
Ex-Demo - As new, has been erected. 3 Man - 3 Season Tent
Save £101
Vango Omega 350 Tent. Part of the Vango Basecamp series, the Omega is a long standing favourite. Ideal for longer expeditions due to the invaluable extra living space, this tent has been designed with larger groups in mind and provides an excellent group space. This base camp tent also features Vango's patented TBS®II Tension Band System, which ensures the tent performs in adverse conditions, particularly in strong, changeable winds. This tent is ideal for those who want to get closer to...
(more)
Ex-Demo - As new, has been erected. 5 Man - 2/3 Season Tent
Save £75
Vango Mambo 500 Tent. The new Mambo, is a 3-pole tunnel tent that offers generous sleeping space combined with a large, functional porch area for storing your camping essentials. This feature-packed tent includes Vango's patented TBS®II (Tension Band System) to provide additional stability in poor conditions, and all-in-one pitching ensures that the sleeping pod always stays dry if it is raining. The Mambo is ideal for slightly longer trips and will also appeal to campers seeking a more spacious...
(more)