Optics Bags & Cases
Save £60
Cullmann Sydney Pro Daypack 600+. Modern design, high-quality materials, lateral access and a main bag opening from the back are the advantages of the new SYDNEY pro DayPack 600+. This model is most suitable as a perfect camera bag, but can also be used as a sporty leisure time backpack....
(more)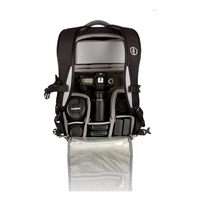 Save £75
Tamrac Nagano 16L Camera Backpack. An outdoor-focused pack, the Nagano 16L is built to house compact DSLRs, mirrorless systems, and action cameras. This rear-entry pack yields a surprisingly high volume carrying capacity, able to carry an 11" laptop or tablet, lenses up to 16" (54cm) in length, flash units, compact DSLR bodies, accessories, and more. The 12L pack also features durable, weather resistant fabrics, expandable side pockets, and an upper padded compartment for extra gear or persona...
(more)
Vanguard 2Go 30 Bag. 2GO messenger is a sleek, hassle-free bag for bringing your camera and other items along - wherever you go! Inside 2GOs main compartment, a soft inner box securely holds your camera and flash or extra lens, leaving space for other daily needs. Transform 2GO into an everyday messenger bag by simply removing this compartment....
(more)
RRP

£59.99
£30.00
Out of stock