Lure Boxes / Wallets
Fiiish Perfect Link Strong Fluorcarbon - 30m. 100 % Fluorocarbon. Comprised of three layers with high abrasion resistance....
(more)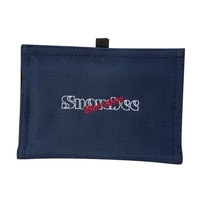 As you'd expect from Snowbee, their new Rig/Trace Wallet is a bit different! 12 heavy duty, clear trace pouches in 2 sets of 6, held in place with a neat Velcro spine. Easily removable and extra sets can be added or removed as required, so you can keep different rigs in each set and only take what you need. Size: 10" x 7"....
(more)
Snowbee Spinner Wallets are a double sided design with zip closures. The tough anti-snag interior material has reinforced metal eyelets to take treble hooks which prevents spinners from tangling....
(more)