Opticron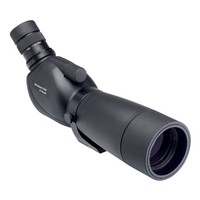 New
Opticron Adventurer II 20-60x80 Waterproof Angled Spotting Scope. Compact lightweight fully multi-coated 80mm spottingscope featuring integrated 20-60x zoom eyepiece with twist-type eyecup. Fully rubber armoured, waterproof and fitted with a rotating tripod sleeve the Adventurer II WP is suited to all types of general outdoor observation as well as target sports....
(more)
Opticron ES 100 GA ED/45 v4 Angled Spotting Scope With 27-80x SDL v3. Opticron ES v4 fieldscopes are designed and manufactured to deliver 'best in class' optical performance combined with rugged dependability and user comfort. Available in 80mm ED and 100mm ED, the instruments excel in the most important area for the majority of users - image quality. The absence of almost all visible chromatic aberration at even the highest magnification settings combined with superior...
(more)
Opticron Waterproof Stay-on-Case Green for ES 100 GA/45 ED. Waterproof multi-layer padded case designed to fit the Opticron ES 100 GA ED/45 Fieldscope. Protects the instrument in storage, during transport and when fitted to a tripod and in use....
(more)