Special Offers
Filters Ignored
You have selected four or more brands, only three brands can be shown at once (please remove one or more of the current brands to display the new one).
Reset all filters
Save £45
Oakley Sliver™ Men's Sunglasses. A timeless sleek design made even more lightweight with sculptural reliefs on the earstems, Sliver™ takes advantage of our durable yet gravity-defying O Matter™ frame material while letting innovative technologies like XYZ Optics® throw their weight around....
(more)
Save £46
Oakley Fuel Cell Lifestyle Men's Sunglasses. We've been toying with a mix of art and technology for some time. The idea was to create clean, authentic style for those who don't just walk the path of life – they stomp it and leave footprints. That's what led to Oakley Fuel Cell™. The idea here is unflinching originality and a smooth look. It's proof that when authenticity speaks for itself, it speaks with volume....
(more)
Save £45
Oakley Holbrook R Sunglasses. Our best-selling Holbrook™ shades are now available with a rounded silhouette, and thanks to the sure grip of Unobtainium® nosepads and stem pads, this lifestyle look has more than its share of performance....
(more)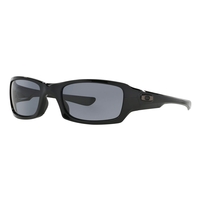 Save £26
If ordinary sunglasses just don't fit, FIVES SQUARED is the answer. Unlike conventional sunglasses that stick out at the sides, this frame uses Condensed Cranial Geometry for a tapered architecture that feels as good as it looks and it's a look that soaks sophistication in adrenalin. Dimensional reliefs, metal icons and sculpturally integrated hinges take the whole idea of street-smooth style and amp it with attitude....
(more)
The Oakley Surf Trucker Cap. Each has its own personality but they all share the comfort of an adjustable fit. The first release sports stripes on the front, and we signed it with the embroidered logo of Oakley women. Another shares the logo, and it blossoms with the beauty of screen printed art. Two additional styles are graced with a plaid inspired print....
(more)
Save £19
Oakley wouldn't say fashion is warfare, but when it comes to being a true original, even something as basic as a cap should take no prisoners. Oakley Rose is a military style made of cotton and jute, a fiber that enriches the texture. The front of this stretch-fit design carries a gorgeous work of embroidery and the logo of originality....
(more)
Save £19
Baseball caps are playful and sporty, but the new season definitely calls for a fresh vibe. It should be something that brims with personality without being flashy, a look of smooth worldly charm that's on the cute & casual side of cultivated. This is it, and it is called the Straw Beach Cap. Coloured stripes wrap the crown in an accenting band, and a metal button polishes off the look....
(more)
(1)
RRP

£24.99
£5.00
Check stock
Purchase Options
This golf favorite includes a moisture wicking sweatband plus eyelet venting to help keep you cool....
(more)
(2)
RRP

£19.99
£5.00
Check stock
Purchase Options
First, Oakley custom engineered a moisture wicking sweatband. Then built panels with polyester mesh to let you vent a brain on the boil. If you can't take the heat, get out of that lame excuse for a hat that's been trapping your sweat and get into the Silicon Bark Trucker....
(more)